InterChurch News is an Evangelical, edit-at-will, semimonthly online news and resource site.
Established September 20, 2013 in southwestern Riverside County, the vision is to communicate to the needs of the tithing and taxpaying evangelical church community -- while serving as a truth witness to the public at large.
Editions are published on the 1st and 15th of each month. InterChurch News is veteran-owned, faith-based free community news service networking readers to Christian services and ministries locally and internationally.
.
Establish lines of communication
Conservative Evangelicals are multi-faceted, multi-cultural: in the world, but not of the world. The Bible demonstrates Christians ought to find common ground with other peoples and cultures and present the gospel as time and opportunity permits; therefore political, cultural and medical news -- water cooler news -- is included.
Our foundational verses include: 'So then while we have opportunity, let us do good to everyone, and especially to those who are of the household of faith' (Gal. 6:10); 'Contribute to the needs of the saints ...' (Rom. 12:13) and 'Wake up, and strengthen what remains ...' (Rev. 3:2).
Bulletin-insert ministry in West Los Angeles: 1993 - 2001
___________________________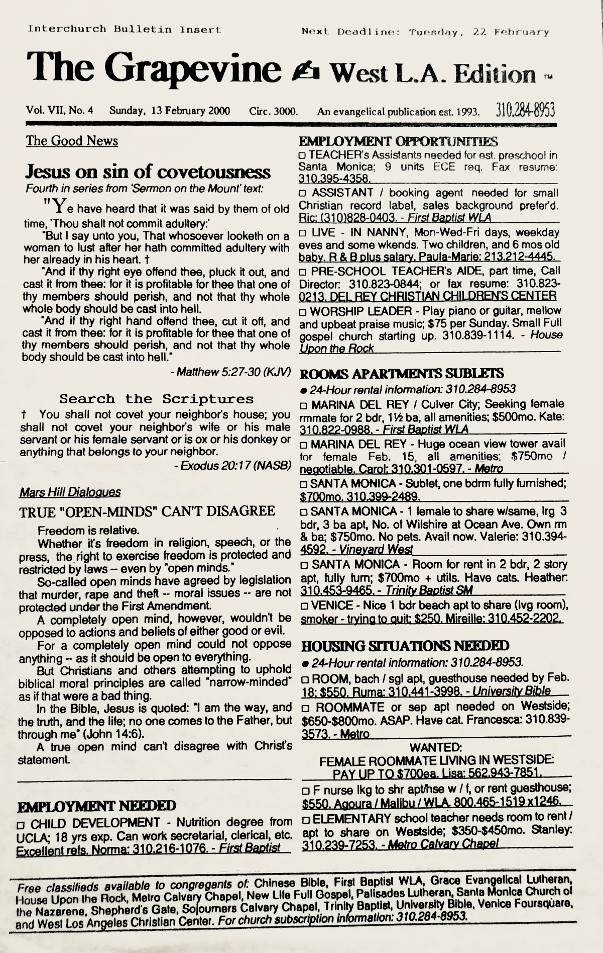 Forerunners of InterChurch News & Resource Service (above): The Grapevine West L.A. Edition (1993 - 2001).
____________________________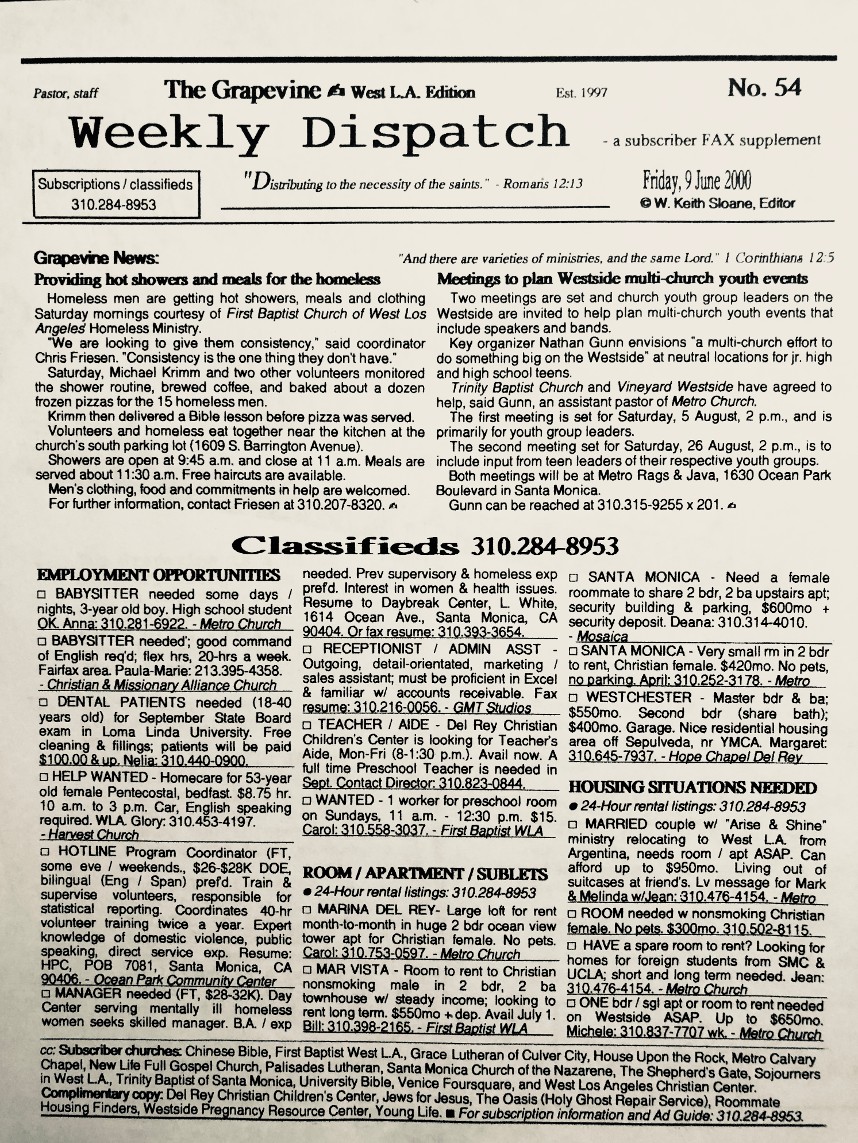 Forerunner of InterChurch News & Resource Service (above): Weekly Dispatch (1997 - 2001)
Distributed as a suppliment to semimonthly bulletin-insert, was faxed to 17 subscriber church offices
and up to 80 church or parachurch ministries throughout Los Angeles.
The publisher-editor holds a bachelors degree in journalism with a discipline in religion from Pepperdine University (see Editor's Testimony).
InterChurch News has been visited by readers with IP addresses from over 100 countries -- including Afghanistan, Australia, China, Ecuador, Israel, Russian Federation, Ukraine -- even Vatican State. We hold membership in the California Newspaper Publishers Association for accountability and legal advice. We utilize the Associated Press Stylebook for newswriting and editing consistency.
We don't use nor recommend the use of Twitter, Facebook and other popular social media platforms since the 2020 Election as they use double-standards in censorship of religious, political and moral dialogue, collect IP data and track users.
Editorials are the opinion of the editor and not necessarily representative in all -- or part -- by the evangelical community we seek to serve. Under First Amendment protection, our editorial position is to exercise the right to freedom of -- and to -- religion, speech and the press; to defend the rights of the oppressed, the unborn, adoptive children and children of faith enrolled in taxpayer-funded public schools -- as well as private and home schools.
.
Save Lives -- Don't Placate A Culture of Reprobate Minds
InterChurch News advocates non-violent resistance, pro-active measures (evangelism, fact-based information and voting) to overturn the redefinition of marriage as ruled in the 5-4 decision by the U.S. Supreme Court on June 26, 2015.
'Let marriage be held in honor among all, and let the marriage bed be undefiled, for God will judge the sexually immoral and adulterous.' -Hebrews 13:4
We are opposed to SCOTUS word-theft of 'family,' 'parent,' 'father,' 'mother,' 'husband' and 'wife' to accomodate same-sex couples in their attempt to legitimize sin as defined in our Bible.
We believe in saving lives -- not placating a culture of reprobate minds.
For the U.S. Supreme Court to nationalize the adoption of children to same-sex couples is a great sin on this nation. We consider their ruling legalized child abuse -- a violation of the universal rights of children.
Nations are mandated to protect 'the best interests of the child' -- an unwitting foster and adoptive baby and/or child's right is to be cared for and raised by parents comprised of a biological XY male (father) and a biological XX female (mother) in the household.
Jesus said:
'... whoever causes one of these little ones who believe in me to sin, it would be better for him to have a great millstone fastened around his neck and to be drowned in the depth of the sea ... woe to the one whom the temptation comes ... do not despise one of these little ones ... in heaven their angels always see the face of of my Father who is in heaven.' -Matthew 18:5-11
When necessary, to protect others, our family and even our Christian reputation, we may chose prayfully and with wise counsel, as the apostle Paul, to 'appeal to Ceasar' -- that is, as American citizen Christians, utilize the legal system to stop, discourage and expose evil.
From Genesis to Revelation, the Bible is reliable in the interplay of history and prophecy, of mankind's inherent sin nature since the fall of Adam and Eve, the broken relationship with God and consequences thereof, and God's offering of forgiveness and redemption soley and uniquely through faith in Jesus Christ as the only son of the living God.
'Jesus said, "I am the way, and the truth, and the life. No one comes to the Father except through me.'" -John 14:6
The internet provided InterChurch News with an unexpected worldwide audience since established in 2013 (see international reader list at bottom of page). Internet statistics as of December 31, 2021: 37,000 unique visitors, 90,000 visits, 324,000 pages viewed; 4.7 million hits from over 100 countries including Vatican State.
Not a big splash production, InterChurch News continues to advance as 'Twenty-six Lead Soldiers' march -- and the Lord wills.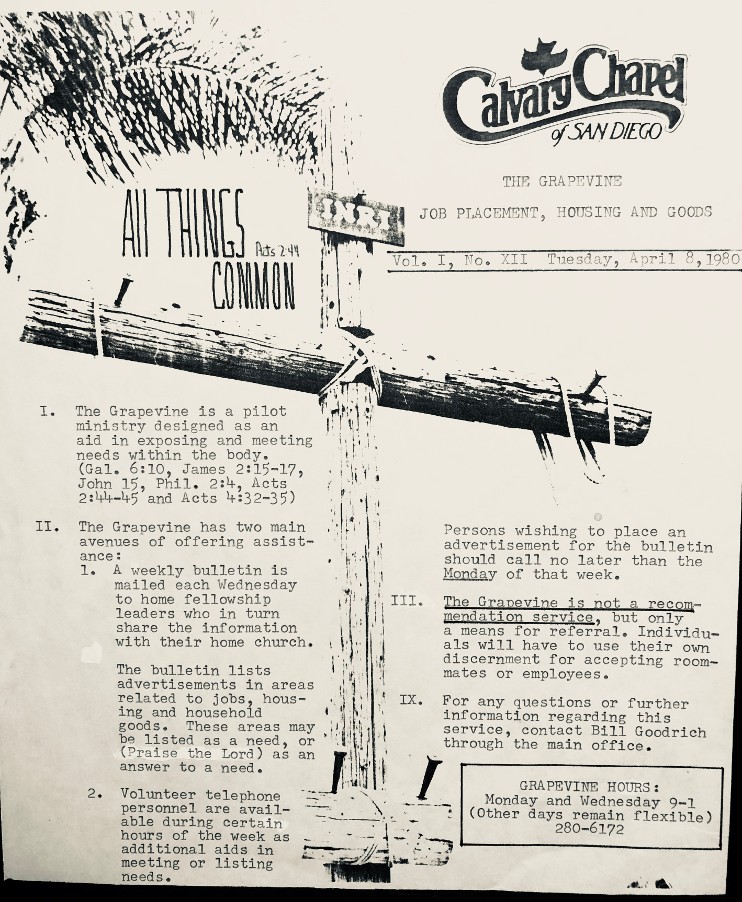 Early Days: The Grapevine, 1980, distributed weekly to over 30 home Bible study groups within Calvary Chapel of San Diego, North Park.
________________
Here at InterChurch News, we hold to the National Association of Evangelicals Statement of Faith:*
We believe the Bible to be the inspired, the only infallible, authoritative Word of God.

We believe that there is one God, eternally existent in three persons: Father, Son and Holy Spirit.

We believe in the deity of our Lord Jesus Christ, in His virgin birth, in His sinless life, in His miracles, in His vicarious and atoning death through His shed blood, in His bodily resurrection, in His ascension to the right hand of the Father, and in His personal return in power and glory.

We believe that for the salvation of lost and sinful people, regeneration by the Holy Spirit is essential.

We believe in the present ministry of the Holy Spirit by whose indwelling the Christian is enabled to live a godly life.

We believe in the resurrection of both saved and the lost; they that are saved unto the resurrection of life and they that are lost unto the resurrection of damnation.

We believe in the spiritual unity of believers in our Lord Jesus Christ.
What is an Evangelical? (video)
NAE Denominational Members (39): Advent Christian General Conference, Anglican Mission in America, Assemblies of God, Brethren Church, The Brethren in Christ Church, Christian & Missionary Alliance, Christian Reformed Church in North America, Christian Union, Church of God (Cleveland, Tenn.), Church of the Nazarene, Conservative Congregation Christian Conference, Converge Worldwide, Elim Fellowship, Evangelical Assembly of Presbyterian Churches, Evangelical Church, Evangelical Congregational Church, Evangelical Free Church of America, Evangelical Friends Church International, Evangelical Presbyterian Church, Every Nation Churches, Fellowship of Evangelical Churches, Foursquare Church, Free Methodist Church USA, General Association of General Baptist, Grace Commission Churches, Great Commission Churches, International Pentecostal Church of Christ, International Pentecostal Holiness Church, Missionary Church, Inc., North American Baptist Conference, Open Bible Churches, Presbyterian Church in America, Primitive Methodist Church USA, Salvation Army, Transformation Ministries, United Brethren in Christ, US Conference of the Mennonite Brethren Churches, Vineyard USA, Wesleyan Church.
Note: Numerous non-denominational associations or congregations, not listed in the NAE denominational, such as Calvary Chapel, Cornerstone, The Grove, Rock Church, Sandals Church, etc., are recognized as evangelical like-minded congregations.
InterChurch News respects and considers friends of the faith Protestant denominations of Amish, Christian Churches, Churches of Christ, Mennonite, Southern Baptist Convention and like-minded others.
'All war is deception.' - Chinese General, 500 B.C.
A working knowledge of the Bible, the cooperation of the Holy Spirit and wisdom are the best defenses to identify -- and avoid -- a cult. Three companion books in a witnessing believer's library could well include: 'Encyclopedia of Cults and New Religions' by John Ankerberg and John Weldon; 'Handbook of Denominations in the United States -- 13th Edition' by Grieg D. Atwood, Franks S. Mead, Samuel S. Hill; 'The Kingdom of the Cults' by Walter R. Martin.
We believe true-Christians can be caught up in cults and we seek to retrieve those individuals into a faith-affirming body of believers such as those listed above (we intend to provide a church locater for our readers). We also seek to restore those who have fallen away from the faith into a restored, affirming relationship with Jesus Christ and into fellowship with a body of true believers.
Concerning the Roman Catholic Church (briefly): InterChurch News appreciates Christians can learn from the life and writings of selected Catholics such as Augustine, Aquinas, St. Francis and others, and appreciate the Catholic church as a moral alliance to protect the family and children, to end abortion on demand, and restore the dignity of marriage to what God intended.
Was the mother of Jesus, our Lord and Savior, special? Yes, of course. But search the Scripture: Mary was not without inherent sin -- the Bible teaches 'all have sinned' since the fall of Adam and Eve (save Jesus Christ). Jesus never calls Mary 'mother' -- only 'woman.'
Jesus' birth mother is noted in the New Testament once in the Book of Acts; there is no mention of Mary in Revelation. No prayers to God through her.
For further understanding of our pilgrims progress-type map to follow the right path of sacrificial obedience to Jesus Christ, we refer you to: 'The Cost of Discipleship' and 'Life Together' by Dietrich Bonhoeffer, 'Mere Chrisitianity' by C.S. Lewis, 'Calvary Chapel Distinctives -- The Foundational Principles of the Calvary Chapel Movement' by Chuck Smith, 'The Westminster Confession of Faith' by G.I. Williamson, 'The Preacher's Portrait' by John Stott and 'Baptised into Wilderness - A Christian Perspective on John Muir' by Richard Cartwright Austin.
The Integrity of the Office of Pastor
Editorial Position Regarding Restoration of a Pastor Who Commits Adultery or Criminal Activity
"How have the mighty fallen!" - 2 Samuel 1:19
The InterChurch News editorial position is biblically conservative regarding the practice of restoring a repentant pastor to the pulpit who committed adultery or criminal activity while serving as a pastor. We believe a pastor (bishop, overseer) "must be above reproach, the husband of one wife, temperate, prudent, respectable ... gentle, peaceable, free from the love of money ... one who manages his own household well" (1 Tim. 3:2 -5), "he must have a good reputation with those outside the church" (1 Tim. 3:7), and be "self-controlled" (2 Tim. 1:6-7).
Therefore, based on these Scriptures, we believe a pastor who has committed adultery or criminal activity -- either while serving as a pastor or in their walk of faith prior to serving as a pastor -- is disqualified to hold the office of pastor.
There is no New Testament evidence -- either in Scripture or in outside historical references -- of the Lord Jesus Christ, an apostle, bishop or overseer in the New Testament committing a sexual sin or being arrested for criminal activity (outside of preaching the gospel). King David, often used as an example for restoration, was a king, not a priest. Although referred to as a prophet, David was not called to the office of a prophet in the sense of a Samuel, Nathan, Elijah, Isaiah, Jeremiah or Hosea.
InterChurch News maintains the Bible teaches that faith in Jesus Christ means repentance -- and by God's grace and mercy a believer works out his or her salvation abstaining from all appearances of evil. Therefore, a pastor who truly repents of the sin of adultery or has been released from jail or prison for criminal offense (does not include arrest for non-violent protest, free speech, etc.) may become an integral member of a congregation in serving Christ, but not as a "pastor."
InterChurch News believes to do so -- to continue to work under the title of pastor -- is unscriptural, taints the integrity of the office, causes believers to stumble and the enemies of the Lord to blaspheme God (1 Samuel 12:14).
"Cheap grace is the deadly enemy of our church. We are fighting today for costly grace." - "The Cost of Discipleship," Dietrich Bonhoeffer
To view 60+ InterChurch News 2014-2021 select editions,
see Wayback Machine / Internet Archive here (keyword: interchurchnews.org).