Perris, Calif., InterChurch News 4.3.2020. -by W. Keith Sloane
---
'Typically, if you put an ice cream store near -- like a Walmart -- you don't have to advertise as much, as people are already there,' said Joshua Naggar.
Naggar, who identifies as 'just a small town attorney,' in Perris, assists cannabis store owners in their applications for licenses in the City of Perris.
He also runs a real estate office on D St.
This is the second installment of an interview with Naggar about billboards and pot stores.
'We call that commercial zoning,' he said. 'The way our laws are written, there's not a lot of commercial zoning for cannabis.'
'That's why they're all over in the industrial area off Harley Knox,' Naggar said.
'To their defense,' said Naggar, 'it has really called for a marketing plan to get people to know where they are.'
The City of Perris issued ten licenses to cannabis stores -- with six pending applications, according to Kenneth Phung, Planning Manager of the Perris Planning Division.
There's no less than 18 Lamar-owned billboards along the I-215 freeway Perris corridor advertising local cannabis stores.
'Billboard advertising typically works best near an offramp or a street,' Naggar said, 'where if you look up, see the billboard, you can exit now and you get the good or service.'
'That's why [it seems] saturated in that regard,' Naggar said.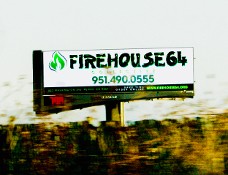 'Every cannabis plant in the licensed world is now metric-tagged in a state-wide system that connects to your point of sale mechanisms,' Naggar said.
'Meaning it is increasingly hard -- if not impossible -- to sell any product
that has not gone through the entire legal chain,' he said.
Since Prop. 64 was passed by a majority of California voters in November 2016, its taken three years for regulations, licensing system and point of sale metric tagging to take full effect.
That said, is it possible black market marijuana is purchased by store owners to meet the product demand and avoid taxes?
'Is it possible there are a few bad apples?' said Naggar who majored in Religious Studies at the Univeristy of Redlands, according to his Facebook page.
'[Tyson's] not a cartoon ... not a movie character. He's a human being.' -Joshua.Naggar
'Is it possible there's some stuff working its way into the system?' Naggar said. 'Yes. But it's becoming structurally almost impossible to sell black market weed in a legal shop for any length of time.'
'It won't be able to show up on your point of sale,' he said.
Pots stores in Perris -- indeed, throughout the state -- are subject to random visits by state investigators.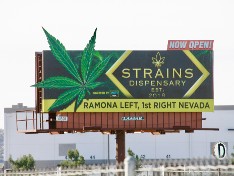 'If the BCC -- the Bureau of Cannabis Control -- comes into your shop,' said Naggar, 'they pick three to five products at random and you have to show the paperwork that goes through the entire life of the cannabis -- where it's been grown, where it's been tested, and it has to have an actual picture of the finished product.'
'And that picture has to be the same as the product you're looking at,' he said.
'They're cracking down on shops to the point where the shops are selling compliant goods right now,' said Naggar.
'There's roving complaince patrols,' Naggar said. 'I got to tell you, I just don't see any trouble in the compliance market right now, that's for sure.'
'I think they got a pretty good handle on
---
things right now,' he said.
A few billboards along the Perris corridor appear to not be in compliance with ad laws.
California Advertising and Marketing Restrictions state a licensee 'cannot advertise cannabis or products in a manner intended to encourage persons under 21 years of age to consume cannabis or cannbis products.'
The law also states a licensee 'cannot publish advertising or marketing that is attractive to children.'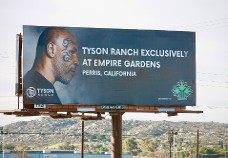 Former world heavyweight boxing champion Mike Tyson's image is displayed on several billboards advertising 'Tyson Ranch exclusively at Empire Gardens.'
If not thinking Tyson is holding a youth boxing camp, teenagers and kids can see Iron Mike is promoting pot products -- so is Tyson's image on billboards unlawfull?
Naggar doesn't see an image issue.
'The law you quoted me,' Naggar said, 'it flushes out cartoons, movie characters, a few other things ...'
'I would say Mike Tyson is probably an outlier,' Naggar said. 'He's not a cartoon. He's not a movie character. He's a human being.'
'I would agree ... many children have an affinity for him. But it would be really weird to prohibit the use of his own being -- which I don't think the law has that ability,' said Naggar.
(Ed. note: Tyson is cited with 49 movie and television credits. For 29 years, he's been parodied in The Simpson's sitcom as boxer Drederick Tatum -- featured in latest episode 'Highway to Well' promoting cannabis.)
Naggar said cannabis billboard ads or store complaints can be filed with the BCC, Perris Code Enforcement or billboard companies.
'It's all local. Local jurisdictions can both allow and prohibit cannabis,' Naggar said. ♦